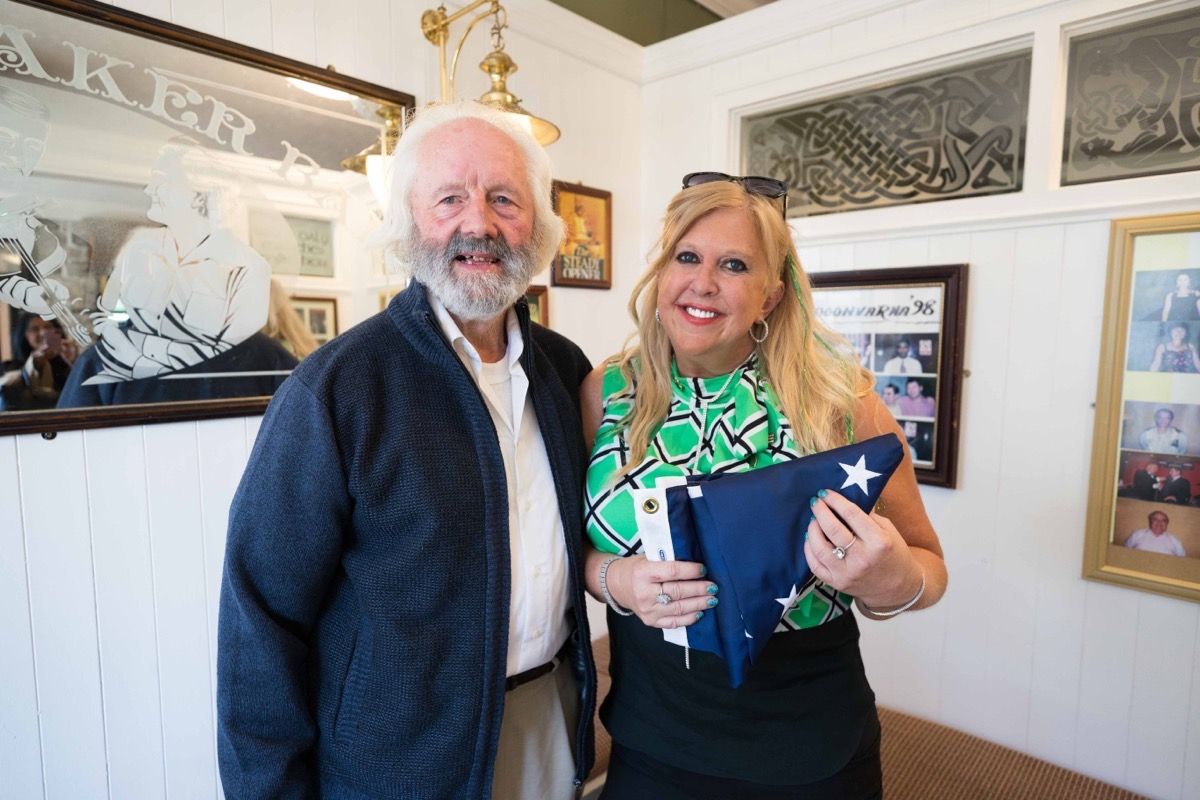 "New York's Irish-American Matchmaker" made a voyage to Ireland in September, taking in two historic places that are close to her heart. First of all, Maureen Tara Nelson traveled to Lisdoonvarna, Co. Clare, home of the world-famous Matchmaking Festival, and then made the journey to Knock, Co. Mayo, the place where her family originated and where she still has relatives living today.
After being a professional matchmaker in the New York area for over 21 years, Maureen, president and founder of MTN Matchmaking, finally had the opportunity to make a pilgrimage to the land of her forebears. Her visit was the fulfillment of an intensely personal and professional ambition she has had for most of her life. She was raised strongly Irish Catholic and throughout her childhood, her mother, for all practical purposes a native of the Emerald Isle, instilled many great and wondrous Irish traditions that Maureen carries with her to this day.
"I was very nervous visiting Knock because all that I'd heard about from my mother's tales formed a picture in my mind of what it was like, how it looked, and I wanted it to match my vision," remarked Maureen. "Upon arriving, I could see that I had a pretty accurate description from my mother but the people were so genuine and kind, I was really shocked at how I was welcomed as if they'd known me their whole lives."
For Maureen, the journey was "a lifetime in the making" as her mother was highly influenced by Knock and was a professional Irish step dancer. Eventually, she and Maureen's father raised six children, Maureen being the youngest, and were happily married for 50 years. After her mother passed away, Maureen heard and felt messages from her mother, and truly believes it was through her mother's guidance that she left a successful career and an unhappy marriage to pursue her goal of becoming a matchmaker. From that point forward, Maureen's life has been dedicated toward helping others connect in happy, productive, meaningful and loving relationships.
Upon arrival in Ireland, Maureen's first stop was over 21 years in the making – to attend the world-famous, annual Matchmaking Festival in Lisdoonvarna, where she presented citations from several U.S. government officials to honor the legendary traditional Irish Matchmaker Willie Daly, considered the last of the traditional Irish matchmakers. An international legend who still uses an ancient book filled with the names and numbers of eligible matches, Willie Daly has been helping Irish men and women using centuries-old methods and customs for over 50 years. Maureen presented Citations on behalf of New York State Senator Kevin Thomas, New York State Assembly Member Rebecca Seawright, Nassau County Executive Bruce Blakeman, Town of Hempstead Council Member Dennis Dunne and Town of Oyster Bay Supervisor Joseph Saladino.
"When I opened my first MTN Matchmaking office in Long Island over 18 years ago, I almost immediately heard about the Matchmaking Festival in Lisdoonvarna, Ireland and always thought it would be amazing to attend and meet one of my heroes Willie Daly," says Maureen. "He is such an unassuming person, who loves what he does, just a magical, loving man of grace and sincerity."
Seeing the festival and meeting Willie inspired Maureen to plan the re-opening of her Manhattan/NYC MTN Matchmaking office specifically for Irish and Irish-American singles. The grand re-opening of Maureen's Manhattan office, which became virtual during the pandemic, is scheduled for this month. It will concentrate solely on Irish and Irish American singles living in Manhattan and the other boroughs.
"One of the new aspects we have at MTN Matchmaking [www.mtnmatchmaking.com] and another reason we were so excited to visit Ireland is that we are now officially starting the MTN Matchmaking International Program for singles living in Ireland who wish to get matched and then marry and live in the New York area. We still arrange virtual appointments with clients overseas to better accommodate our single clients in Ireland," she concluded.
Another lifelong mission of Maureen's was to visit Knock, where she was treated to a private tour of the town museum and visited with a local historian who provided some insight and knowledge of her family's history which goes back centuries and continues to this day. Knock, County Mayo is famous in Ireland for Mary appearing in the area of the Knock shrine. Additionally, her family still owns and operates a bar in Knock that has existed since 1888 – called Kilkenny's.
"Visiting the famous Knock shrine with a personal guide was extremely moving for me as we were told growing up that one of the witnesses there was a very distant cousin of ours. I was extremely honored by learning that my mother's family, the Jennings in the very religious town of Knock, was well known even to this day as my grandmother Anna Jennings who we called Nance, had about 10 siblings that were born in Knock. She was extremely proud of her Irish heritage and brought us all up to honor our heritage and our Jennings name. My mother and her sister Pat were famous Irish step dancers before getting married."
Maureen Tara Nelson has been considered "New York's Irish-American Matchmaker" who has matched thousands of couples during her career. Her unique matchmaking process includes: a complete personality analysis, thorough screening process, compatibility assessment and personality test. These traditional, in-person methods are proven to be much more effective and personal than any modern dating app or web site.
Tomorrow Friday, October 7, MTN Matchmaking will host the largest Irish singles celebration to honor the grand opening of its new Manhattan office for Irish and Irish American singles, from 5pm-7pm, O'Casey's Restaurant, 252 West 46th Street, Manhattan. The Irish singles party is the first celebration inspired by the famed Matchmaking Festival in Lisdoonvarna, Ireland. This is an exclusive event with complimentary food. RSVP a must. For information please call 646-844-6100.